Whether you're looking to offboard tedious IT tasks or free up your team to focus on strategic initiatives with a full-service offering, ZAG has a managed IT services plan to fit your needs.
As a managed services provider (MSP) serving the Western United States, ZAG is a trusted partner for businesses searching for proactive technology management and strategy.
MANAGED Security Assurance
We help resolve IT security issues before they block your success through proactive management, monitoring, and maintenance of your most critical IT assets. We help secure your systems to keep your business up and running.
MANAGED USER Support
In addition to keeping your systems up and running, the Managed User Support plan adds end user remote support. This includes a multi-tiered phone and email support center, printer troubleshooting, file systems management, and other services.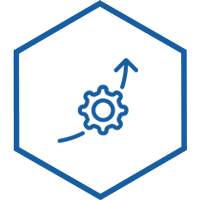 ALL MANAGED
For clients wanting to augment their in-house IT team or outsource the management and security of their IT assets and critical business applications, we recommend our "All Managed" solution. In addition to provide cost predictability, this includes reviews by our Solutions Architects around new technology investments, as well as our Systems Engineers who provide onsite support, remediate infrastructure issues, and provide backup remediation.
Complete IT Managed Services
ZAG offers a variety of IT managed service and security plans that are designed to fit a wide scope of business needs. Whether you have a large enterprise or small business, we have an MSP package for you. Contact us to discuss the right type of engagement that works best for your business.
Third Party Application Updates
Workstation Disk Space Monitoring
Automated Antivirus Updates & Management for Workstation
Automated Antivirus Updates & Management for Server
Network Device Monitoring
Semi-Annual Switch, Router, Firewall Firmware Updates
Security Package:
– DMARC
– Dark Web Monitoring
– Cisco Umbrella
– Network Detective Scans (Qtrly, Semi-annual, Annual)
– External Vulnerability Testing
Security Group Management
Basic File Systems Management
Onsite Support (when needed)
Infrastructure Remediation
Managed Security Assurance
Why ZAG is Different
What makes ZAG unique is truly learning your business before recommending technology updates or investments. What problems are you trying to solve? Do you need a process or technology to solve them? Our team invests time to gather information before scoping requirements, including functional needs, cost, manageability, and more.